Welcome to Chairlift Talk. We think Omnibar has the coolest fans and customers on planet earth and we want to share their stories. Everyone has a different story and we thought we have just the right platform (blog) to make it work. Below is this weeks featured fan but let us know what you think on twitter or if you would like to be featured next! 
If you had 10 minutes on a chairlift with a stranger, what would you say...
Name: Justin Angle
Hometown: Missoula, MT
Instagram: @angleman


Justin on top of Stuart Peak. Photo: Bill Huggins

Bio: Justin Angle has competed at the front end of ultramarathons for the last 12 years in races ranging from 50k to 100 miles. Career highlights include a 2007 age-group national championship at the 50-mile distance, a win and course record at the 2010 Plain 100 and a win at the 2014 Ghosts of Yellowstone 100. Justin enjoys the generous support and sponsorship of Patagonia, Altra Running and Omnibar and actively contributes to the outdoor industry through product development and testing, marketing consulting and online content development.
When not running, Justin is a marketing professor at the University of Montana School of Business Administration where he teaches Principles of Marketing and conducts research in consumer psychology.  
Athlete or sport you like to follow?
Trail Running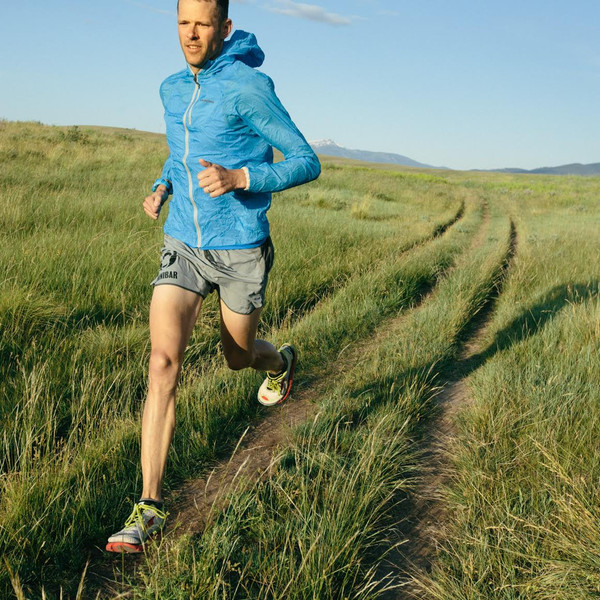 Justin in his blue running jacket. Photo: Tom Robertson
What was your most recent adventure like?
I recently shot down to Stanley, ID for a quick adventure in the Sawtooths. One of my closest friends just moved to Sun Valley and we decided we better link up for some mountain fun before the snow shuts down the trail running season. We found a fantastic 20 mile loop in the high country, complete with mountain lakes to fly fish and 10,000 foot peaks to scramble. Great fun with a great friend...and home in time to put my daughters to bed on Sunday.
As an outdoor enthusiast, what is the one place you keep going back to?
Mount Jumbo...a staple
Tell us about a time you were unprepared and what you would do differently next time.
Despite living in Seattle for 9 years and therefore developing an intimate familiarity with rain, I still struggle to clothe myself properly for the 35 degree, rainy day run. Typically once every autumn, I get caught out in a wet, slushy sufferfest that involves inoperable hands, burning toes and an afternoon of shivering. If I do it right, I also end up getting sick. You'd think I would have figured this pattern out by now.
What is it about the outdoors that keep you and others going back?
I think it's the unknown. Every day is different - different weather, different trail conditions, different sounds, different light, different flora and fauna, different energy levels, and on and on. I keep going back because that variety and exploration is exhilarating. It makes me feel alive to discover beauty in routine things.
What is on your adventure bucket list?
#TheRunToCanada....but some friends beat me to it. Seriously, the bucket list includes exploring more ranges of MT and doing what I can to connect my running aspirations to environmental causes.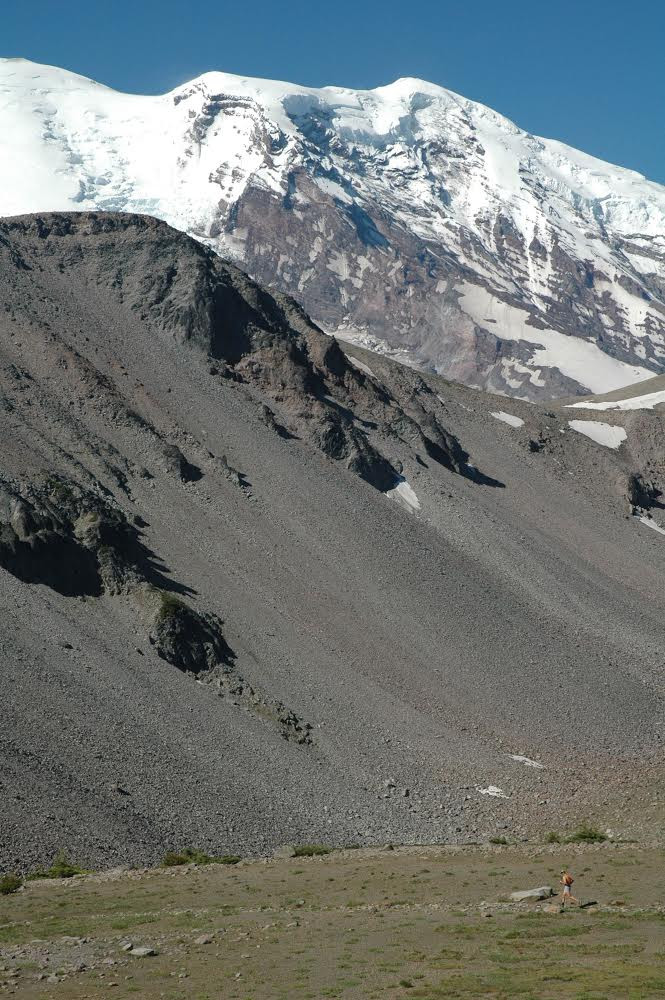 Justin running in the shadow of Mt. Rainier. Photo: John Stamstad
---

---
Leave a comment