Andy Drobeck:
After joining the Omnibar team in April of this year, Andy Drobeck has been gaining momentum in his second year as a professional triathlete. After winning the Vineman Full Triathlon in Santa Rosa, CA this past weekend, we caught up with Andy to take a deeper look at this seemingly fast track to success. Hint: It's rooted in passion, family support, and life balance. 
--
How do you balance your professional career as a triathlete and full time firefighter? 
It can be a hard balance at times.  Having a full time career as a firefighter is what has actually allowed me to pursue an elite level in triathlon.   Its a schedule that allows for 30 hour weeks of triathlon training.  For that to be accomplished with a 9-5 job it would take very little sleeping.  I (and my coach Elliot Bassett) have over time developed ways to balance work and mitigate how the job affects my training and how the training affects my job. For example I use my fire dept shifts as recovery days.  I schedule sleep before training on days after I work night shifts.  And I maximize days off from the fire dept with heavy training load.  My job as a firefighter is what pays the bills, its the job I'll be doing for 30 years, and ultimately it takes precedence.  I consider myself very fortunate however to be able to do two things that I really enjoy.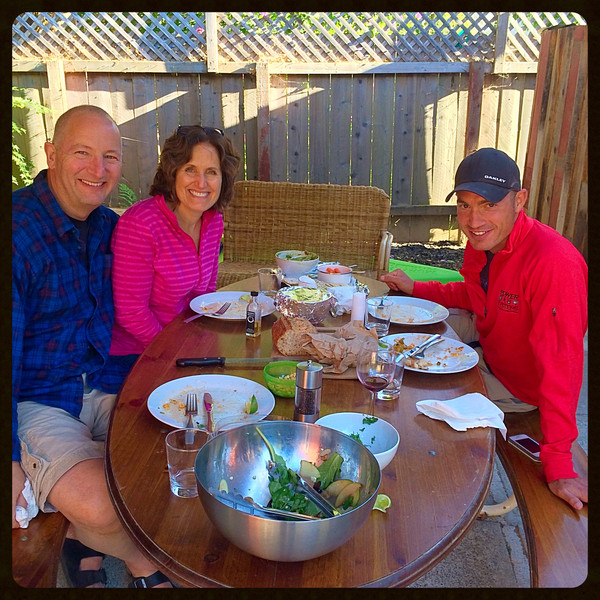 What's the most difficult and rewarding part about being a professional triathlete? 
The most rewarding part is when all the training pays off with a good race performance that was to what I see as my full potential at the time.  The most difficult part is doing 99% training and 1% racing.  I love racing, but training is where the magic happens and too much racing leaves me feeling stale and broken down.  I always want to race more but have to hold myself back and be smart.
How did you become drawn to the sport?
I was drawn into endurance running first because I seemed to have a natural talent for it and enjoyed it.  I had the drive though that a lot of athletes have where I wanted to do more work than what my body could actually handle.  That left me injured as a runner.  Triathlon filled that gap to where I could put in all the work my heart could handle.  It literally takes all of day of training for me to race Ironman distance fast. 
How does living in Missoula complement your lifestyle?
To be honest Missoula is a blessing and a curse.  Its great because people are active, the fitness scene in general is really good, and there are some really good athletes here which push me to be better.  But it isn't the best place for a triathlete.  The pool choices are lacking, the road biking leaves a lot to be desired, and winter makes training tough sometimes.  Don't get me wrong, there are worse places, but Missoula will never be a mecca for triathletes.  You have to get creative here by adding in trail stuff, taking trips, etc.
What kind of traveling logistics do you encounter trying to get your gear and family to a race like Vineman Full? 

Ask my wife (who is a runner) about the logistics involved in triathlon.  She'll tell you how much of a nightmare it is.  I crave the days (when just competing in road running races) of just flying with a carry on, hitting the expo to get a BIB number, and sitting around for race morning.  Triathlon involves flying (or mailing your bike).  Packing all the gear you need for a variety of weather conditions.  Then there are usually 1 or 2 transition areas that you have to check gear at either the night before or race morning.  Driving the bike course is often a good idea.  Have to find a place to practice swim.  Have to get in training the days before.  Need tools to put the bike together.  It goes on and on.  What ends up happening is the 3 days before a race way busier than one would expect.  Then after I just want to sleep and I end up spending three hours rehabbing gear and packing my bike back up.  For the family its challenging as well.  They have to study race maps to figure out when and where I'll be at certain spots and they're out there for 9 hours.
Have you competed in this race before?
I was signed up for Vineman full back in 2011, however, I crashed on my bike and broke some vertebrae in my back.  Then I couldn't race.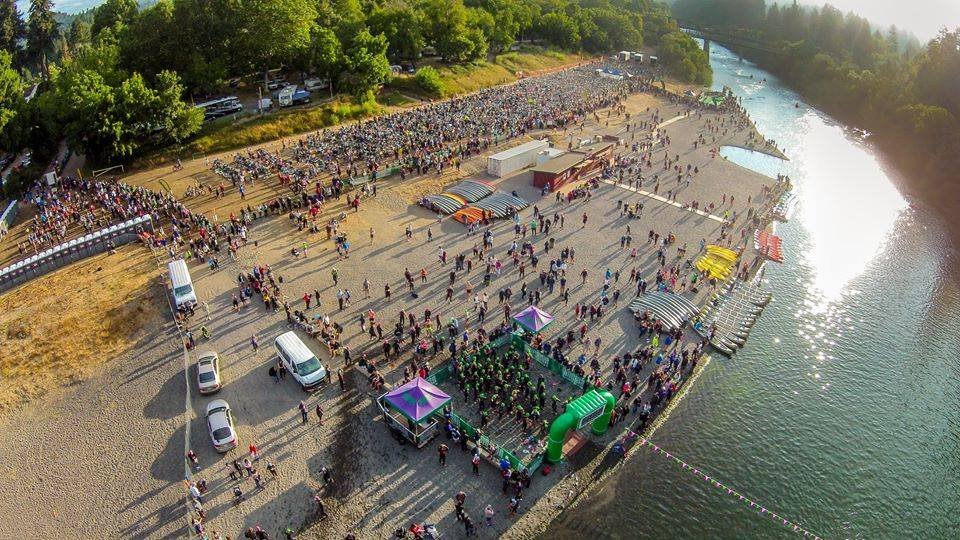 Photo Credit: Shari Karina
How did Vineman Full compare to other full triathlons?
There are generally 4 distances of triathlon.  The Full or Ironman is the longest at 2.4 mile swim, 112 mile bike, and 26.2 mile run.  A half is half that distance.  Then an Olympic distance is about half of a half (its actually swim 1500 meters, bike 40K, run 10K).  The shorter distance is a sprint triathlon which is what you'll see a lot of local races putting on.  Its usually around a 750 yard swim, 20K bike, and 5K run.  To put it into perspective a full generally takes me around 9 hours, a half 4 hours, a oly 2 hours, and a sprint 1 hour.  Comparing Vineman to other full's I've done I would say its one of the best courses out there.  Its a very swim friendly venue, the bike is on curvy rolling hills through vineyards, and the run is on similar terrain to the bike.  Also its a very friendly low key atmosphere that looks to see athletes succeed rather than just an entry fee.
How did you feel heading in to the marathon portion of the race?
I was having a lot of back pain on the bike (something I struggle with but really flared up this race).  For that reason I was really kinda miserable the entire ride.  So when I hit the run I was just so happy to be off the bike that I felt great.  Also, the bike is where mechanical things can happen, so I'm always grateful when I hit the run that I didn't get stuck on the side of the road somewhere.  The thing about Ironman though is you can feel amazing one minute and terrible the next.  You can never count your chickens before they're hatched.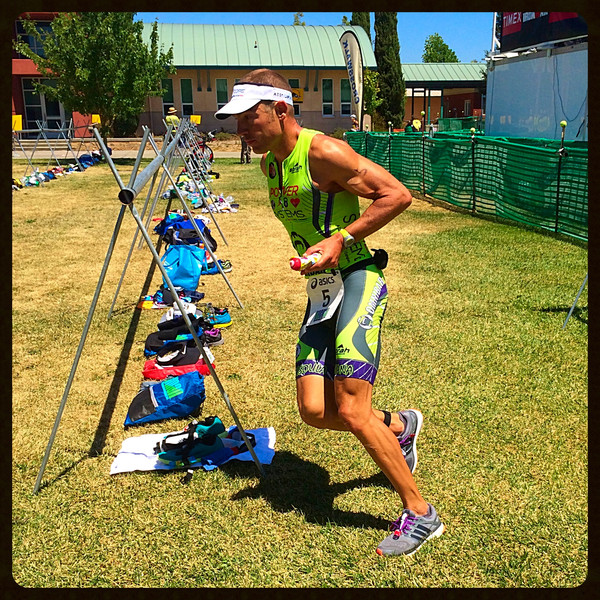 Has running always been your strong suit? 
I would say running has always been my strong suit, but I would always say that how well one run's is really dependent on how one bikes.  So as I get stronger on the bike it makes things different as a runner.  If I back off on the bike I can have phenomenal runs, however, if I crank the bike super hard then I might run like crap.   So there are triathletes out there that I might out run, but I might be out running them because I'm actually better at biking than them.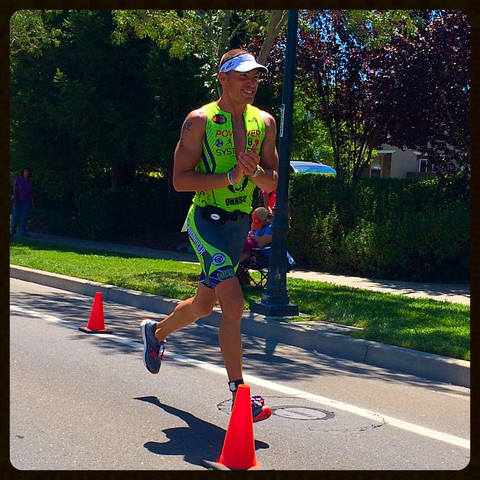 Why Omnibar? 
I tried Omnibar for the first time during a long bike ride where I was craving real food.  I stopped into the runners edge and picked up a couple Omnibars.  I really enjoyed the taste, texture, and how easy they went down.  The rest of my ride after that went good as well.  Afterward I starting looking into what's in the bars, where they come from, etc.  I was very pleasantly surprised to find out what's in the bars and started incorporating them into my training.  Particularly during longer duration training sessions where I needed the fuel they provided but also needed something savory and satiating.
What's your go to post workout meal when you're at home? 
I honestly use the bars to fill some of the nutrition needs between sessions when I don't have time to get a meal.  Usually when I'm at the gym or something and away from the fridge.  I don't really have a favorite post workout meal at home, I just raid the fridge for what looks good.  Usually aiming for something healthy and a good balance of carbs, protein, and fat. 
When you're not training or competing, what's your favorite thing to do with your free time? 
What is free time?  I honestly am always training and have little free time. When I do though I just enjoy hanging out with my wife Trisha and spending time around the house.
--
You can find Andy's complete 2015 Vineman Triathlon report
here
. 
---

---
Leave a comment