Over the weekend I drove down to Stanley, Idaho and met up with my brother and his friends. We floated the Salmon River and spent two nights camping in the backcountry. It was a weekend filled with laughs, alpine lakes and too many mosquitos. This is a blog about what we did with some photos of the trip!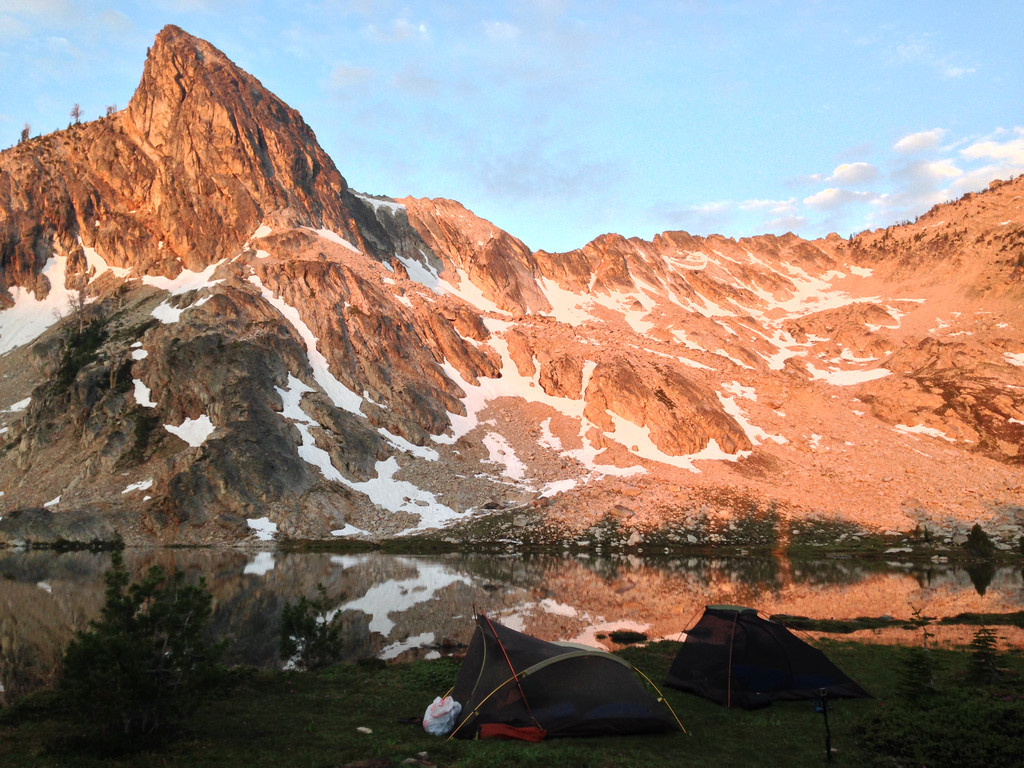 My brother and I, John, have been getting together 2-3 times a year for the past couple of years to ski, raft or hike together. It's fairly easy since he lives in San Francisco because flights are cheap, especially on non-holiday/off weekends, which is when we choose to do this type of stuff together. We always include friends and last year John and friends came to Montana and we summited Mount Siyeh in Glacier National Park and then over Thanksgiving we skied Mt. Bachelor and in the  late winter I visited him to ski Squaw Valley. You can see the trend. We like to get after it and this past weekend was our (now annual) summer trip.
Anyways… now onto what we did in the Sawtooth Mountains.
We had this trip planned for about three months. John and two of his friends. Justin and Stuart, booked flights just over a month before the trip. The plan was for them to fly into Boise and drive to Stanley where we would all meet on Thursday evening. I was to drive down from Missoula and I was lucky enough to have Anthony join for the drive and trip to make a group total of 5 people.
As Anthony and I were driving we got word that John, Justin and Stuarts flight got canceled. Not delayed or rescheduled. Just canceled. (mechanical issues, thanks Alaskan!) All of a sudden, on the side of the road, Anthony and I were wondering if the whole weekend was in jeopardy and what to do. The next available flight for them wasn't until Friday evening, which meant we would miss floating the Salmon River and wouldn't be able to start our hike into the Sawtooths. This all meant that the weekend wouldn't be worth it without Friday. A decision had to be made so they canceled their return flight, took a travel voucher for another time (our next trip) and all hopped in the car and started the overnight, 13 hour drive from San Francisco to Stanley, Idaho. Weekend was now a go.
So, while those three suffered through the night driving, Anthony and I continued towards Stanley and found a campsite just outside town for the night. This is us on night one.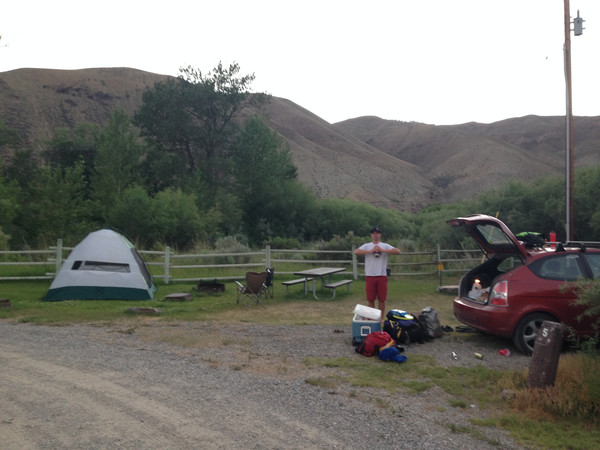 The next morning the two of us drove into Stanley and sat down at a restaurant to eat some breakfast. No less than 5 minutes later, John gives me a call to say they are just rolling into town and asks where we are. Funny how it worked out so that we could all eat breakfast together.
Our first plan was to duckie a small stretch of the Salmon River with the Sawtooth Adventure Company. This is us right before we got on the river but we had a blast! Duckies (inflatable kayaks) made it a little more fun than being in a large raft because we got to control our route on the river. I don't have any more photos from the river but we swam, enjoyed the sun and drank some beers. Overall, an awesome start to the weekend.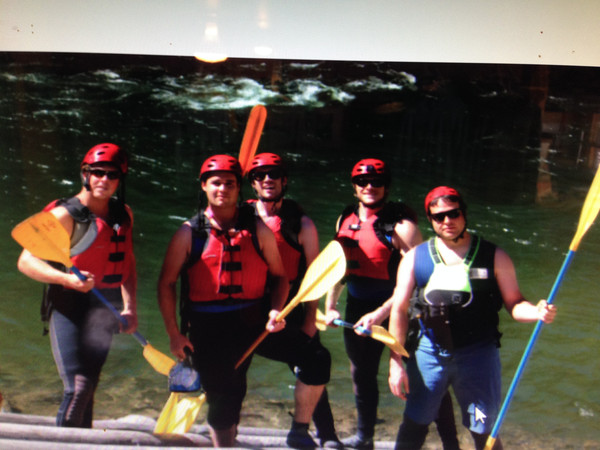 Left to right: John, Anthony, Justin, Stuart, Me(Brian). We take floating seriously. 
After floating we lounged for a little bit and then stuck to our original plan of getting a couple miles in on the trail. Here is a map of the loop we hiked and camped on. We hiked counter clockwise and the loop total was 18 miles. Pretty manageable over two nights.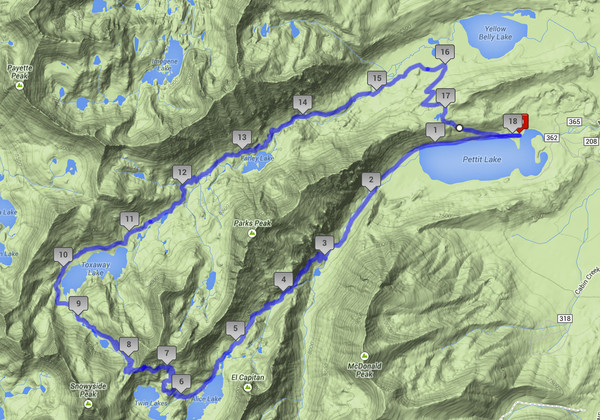 Image from google. 
Here is a photo of us on the trail on Friday evening.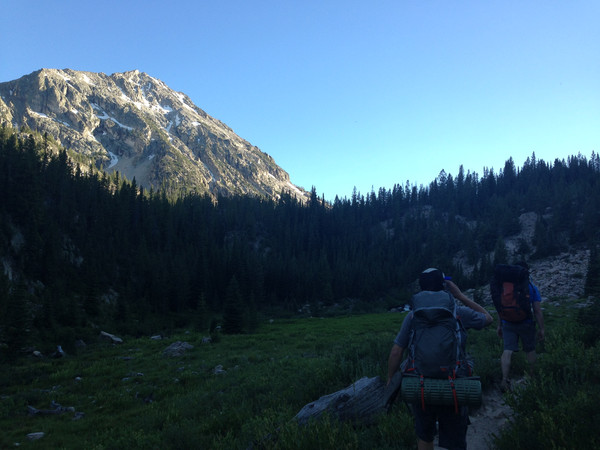 The first night we camped at Farley Lake. The guidebook said we hiked 4.2 miles but it felt like way more after floating and for the guys who drove through the night. As soon as we got near the lake it started to get really buggy. Mosquitos plus everything else to be exact. This is a long exposure from the campsite.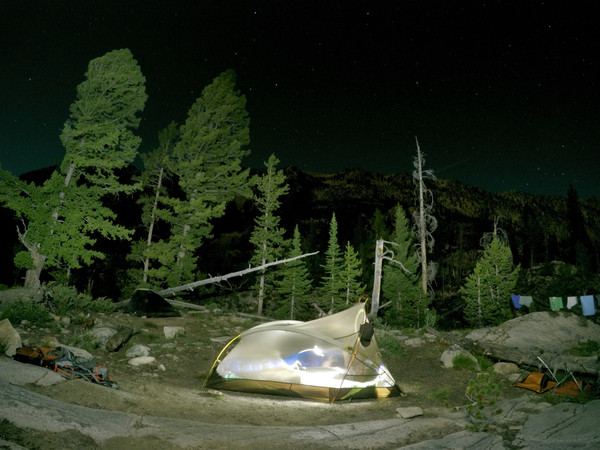 Photo: Stuart
We got on the trail sort of early (around 8am) to try and beat the heat on Saturday. Our destination for the night was the Twin Lakes which meant having to go up and over the pass. Here is a view of Toxaway Lake and you can see the pass behind it. (the drainage between the two peaks)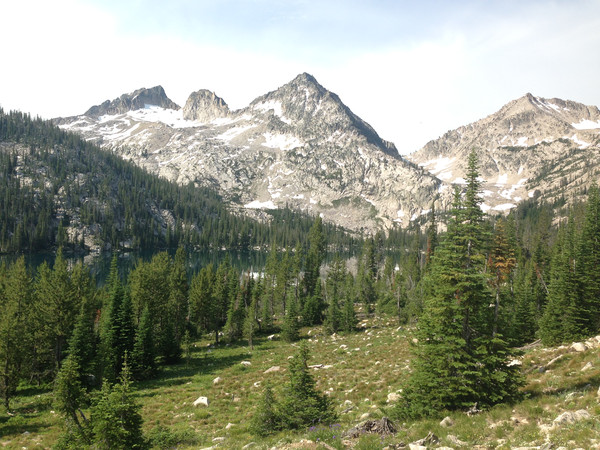 Here is a photo of the five of us at the base of the pass. The guidebook said we had about 1000 feet of vertical elevation to gain from here to the top.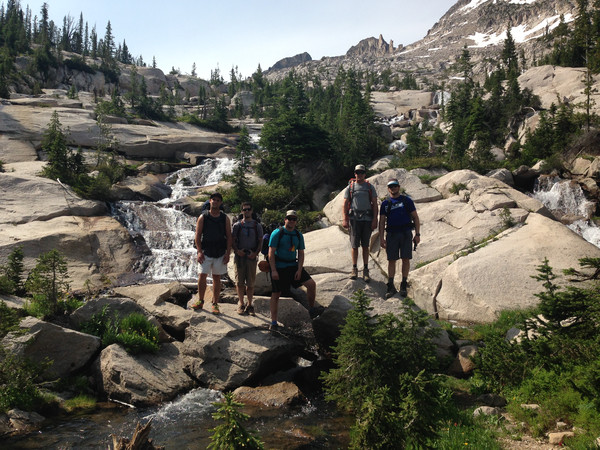 Here we are hiking up the pass.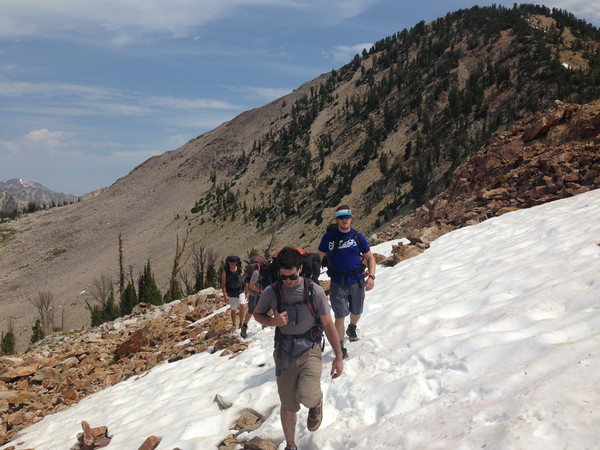 This is us at the top of Snowyside Pass with the Twin Lakes below.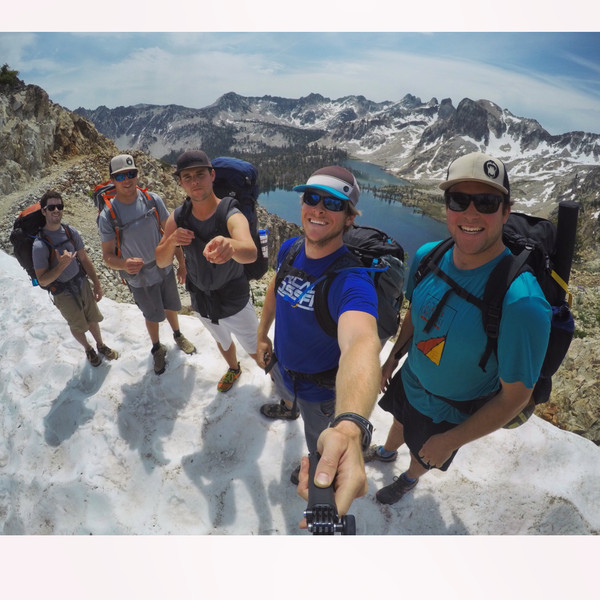 Photo: Stuart 
From the top of the pass down to the Twin Lakes wasn't bad. It maybe took us about 45 minutes. We then setup camp and got to enjoy ourselves. We went swimming, fished, and pulled out some whiskey we brought along once the sun went down. This is me in the lake.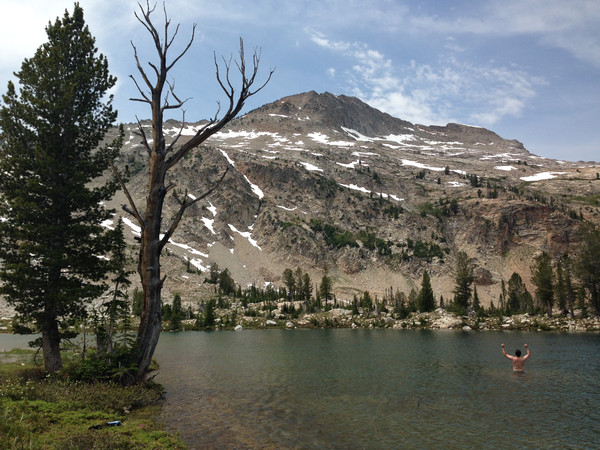 This is Stuart floating on his sleeping pad.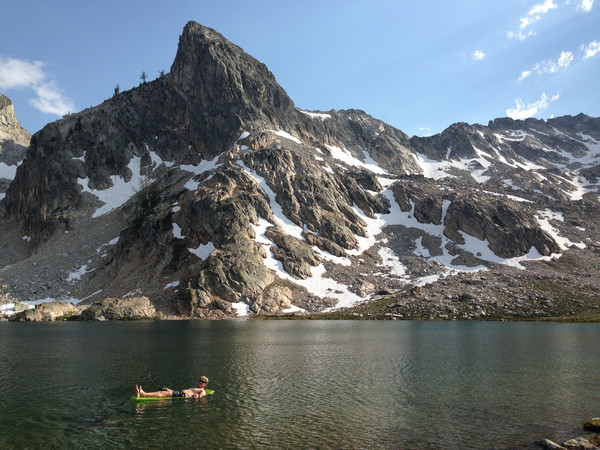 We got to enjoy our whole afternoon on the lake. We scored one of the best spots because we were on a little peninsula that jutted out into the middle of the lower Twin Lake. It honestly felt like we were sleeping in the middle of the lake. This is a photo of the spot taken Sunday morning and you can see our tents popping up in the middle of the point.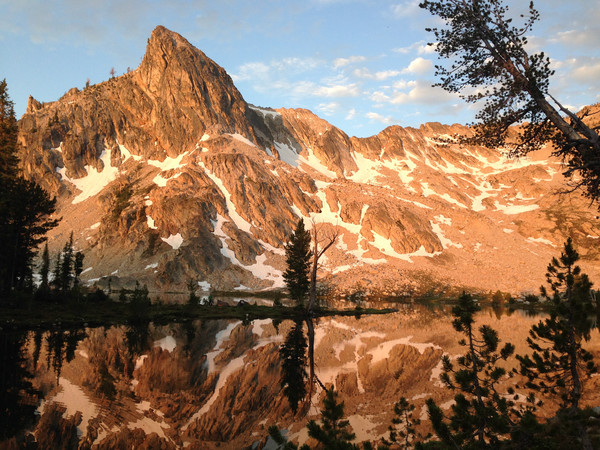 We go up early to try and make it to the cars at a reasonable hour so John, Justin and Stuart could drive back to San Francisco so we hit the trail. We had to cross the creek a couple of times and I fell in which meant I had to hike out with wet feet and shoes.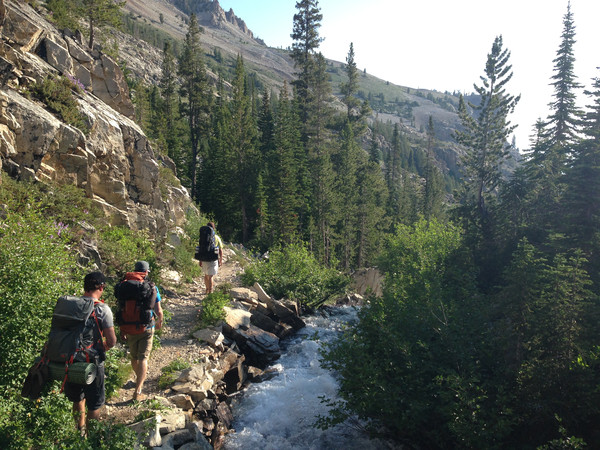 Photo from a bridged creek crossing.
The last mile of the hike was along Petit Lake and we came across this rope swing which I took full advantage of.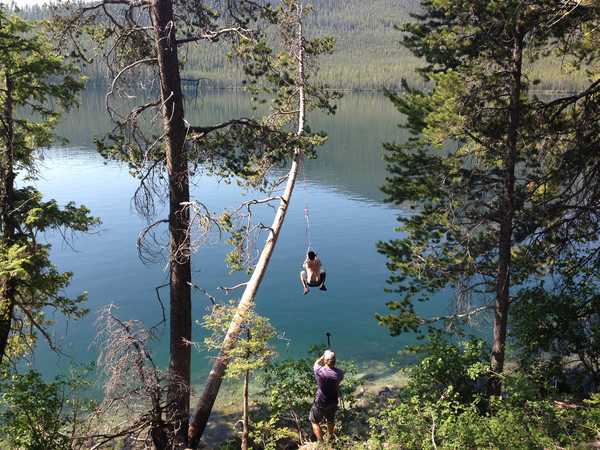 That was pretty much it. I would highly recommend visiting Stanley sooner rather than later because the Sawtooths and Salmon River are really worth it. If I could give one piece of advice, bring bug spray and a swimsuit.
Check out what else I have been up to here and remember, get outside and get after it!
---

---