Ski Companies Thinking Local:
It started with side-country and evolved to backcountry. It's safe to say the alpine touring revolution is here. With more skiers freeing-the-heel and hiking-up-for-reel, companies are competing to develop the lightest, most durable and all-around top-performing gear in the business. Here are some up-and-coming companies we're keeping an eye on as we salivate for snow.
Food for Alpine Touring:
While Omnibar is a favorite among ultrarunners, triathletes and summertime weekend warriors, winter holds a special place in our hearts. There's a special quiet to the woods when it's insulated by a fresh coat of snow. The more remote wilderness areas remind us that we truly are visitors during the busy summer months. The movement in backcountry slopes add a back-of-the-mind sense of exploration and danger mixing endurance with decision making in ways which strengthen more than the legs. Our goal with Omnibar was to produce a product for the adventure seeker to take into the woods that was lightweight but packed with clean energy. 
Hometown Heroes: When members of your team claim their home resort to be "The Wasatch" and other have hobbies like base jumping and skydiving, this is a company you might want to keep an eye on. Based out of SLC, the team is winning in the "years on hill" category and includes some of the best responses to cliche questionnaires we've ever seen.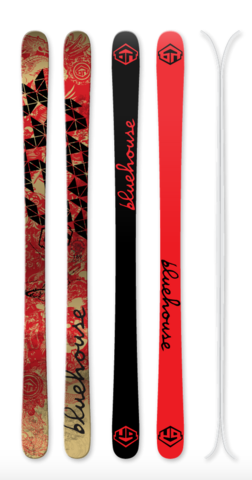 Source: BlueHouseskis.com
 Featured Product: Focusing here on the backcountry skiing gear, the skis are promoted as "a great compromise: wide enough to enjoy soft backcountry powder, but light enough for energy efficiency on the ascent." As a ski built with touring in mind, The Blue House Precinct and the Yokozuna are great options.
Entrepreneurial Spirit: Under the Blue House business model, you by skis direct. After all, isn't the independent act of making turns and freeing yourself from reality what make skiing great?! "Put faith in the skiing community and the skiing community will move you forward."
Price-Range: All the skis seem to be on-sale. Full price range from $500 to $850.
Target Market: The team doesn't appear to have anyone straight outta high school, and we couldn't really locate a Facebook page. Perhaps the target market is base jumping fathers, but that's a pretty narrow niche. Looking for a made-in-the-USA ski brand looking to cut costs to the ski community by purchasing direct? Looking for customer service and a one year guarantee on your skis? Check out Blue House Skis.
Hometown Heroes: Caravan skis come to the ski-world from Bozeman, MT. Home of the big sky and big skies, Caravan is made up of "skiers, artists, engineers, environmentalists and locals coming together to create Caravan."
Featured Product: The 2016 pro-line features the all-mountain-tool called the Daily Driver. 105 under-foot, Looking for something beefier? Check out the Zepher Big Mountain Powder.
Price-Range: $600-$700
Target Market: Montanans are known for being blue-collar, hard-working and old-school in style. Montana is also known for amazing meat bars!
Hometown Heroes: "Handcrafted in the Sierra Nevada." Praxis skis were at the beginning of the rocker-revolution. Based out of North Lake Tahoe, the team is close to the mountains and close to their product. Made in the USA.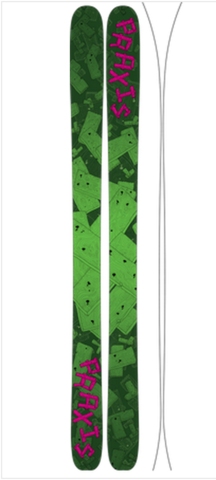 Entrepreneurial Spirit: Claiming something most simply cannot, Praxis skis are manufactured 100 percent in-house! That means the skis delivered to your front door are from North Lake Tahoe. Period. That's kind of cool. Meet the team.
Price-Range: Focusing on the touring skis, the Yeti and the Backcountry, the two are each $815.15. Praxis also produces custom skis. 
Target Market: With lines in Touring, All Mountain, big Mountain and Powder, the Praxis skis are built for the all-mountain riders with an appetite for the backcountry.
Hometown Heroes: Jackson Hole knows how to rip.
Featured Product: Think of Climbing Skins Direct

 Source: Igneousskis.com
Entrepreneurial Spirit: The website is clean and to-the-point. If you want to charge hard, the folks behind Igneous Skis test their product at Jackson Hole. During the design process, the creators will actually interview to get a sense of what you're looking for.  Igneous then runs through a complete design of the ski to make sure you approve. Not many companies touting that level of customization.
Price-Range: Since these skis are custom made, they're sold as "any shape is possible." Typically the words "custom" and "affordable" don't wind up in the same sentence. Skis will run you $1600 and take three to five weeks to design, build and show up at your door-step. Snowboards are $1200.
Target Market: Dropping $1600 on planks is no small order. With bulletproof kevlar protecting the base from rocks, these skis are built for the unpredictable skier and the unpredictable snow conditions.
Hometown Heroes: Hailing from Crested Butte, Colorado.
Featured Product: Romp skis are made to order. Their patended carbon fiber vibration canceling material, Countervail, touts a damping value twice as high as traditional vibration damping solutions, taking a the definition of a smooth ride to yet another level.
Entrepreneurial Spirit: Check out this video of the production floor. What we love about shops like this is that you know they started out building skis for themselves and thought "we could sell these!"
Price-Range: $850-$1250
---

---
Leave a comment